Home Schedule Registration Workshops Previous meetings Field Trips Plenaries Location
LOCATION AND TRAVEL TIPS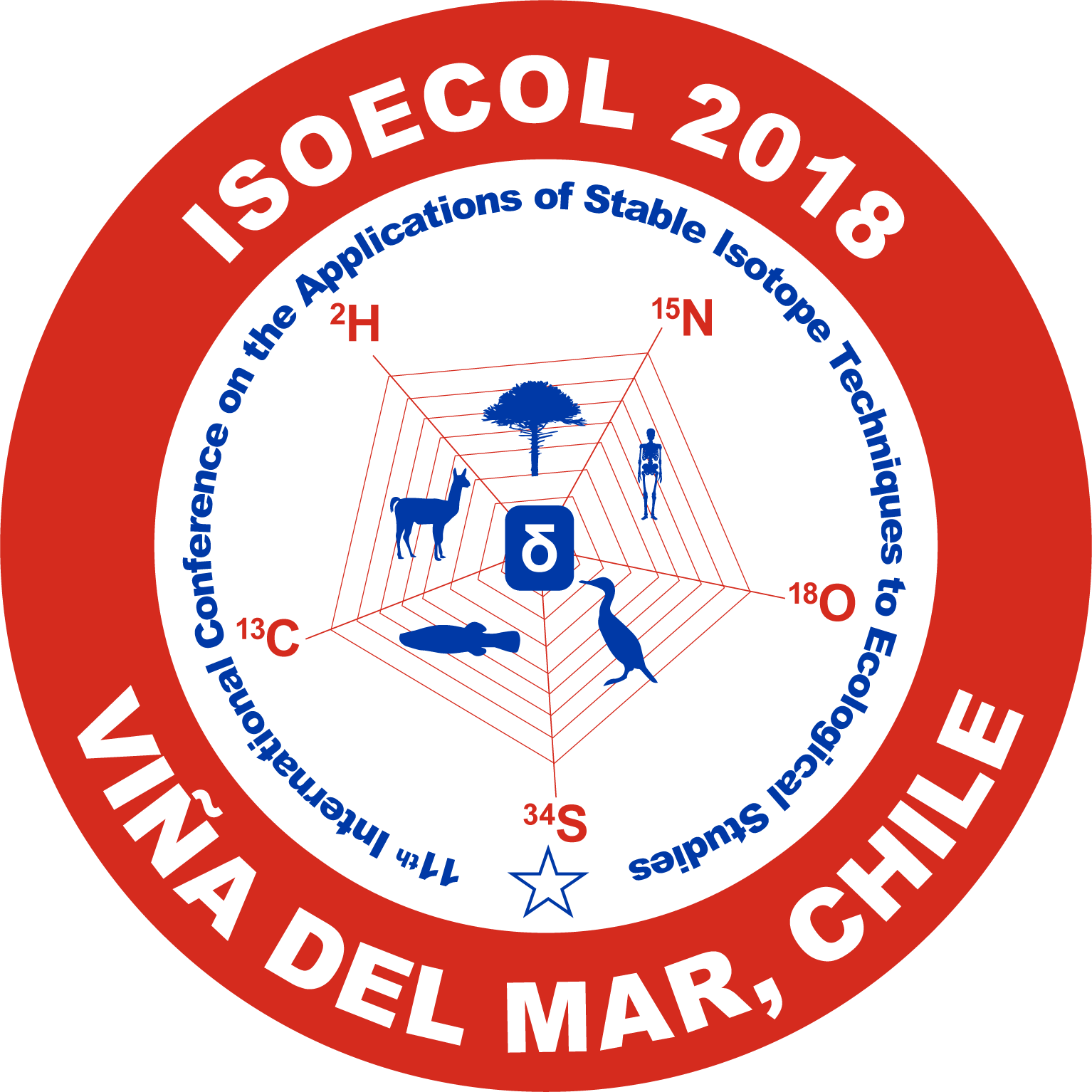 The main schedule of IsoEcol 2018 or more formally, the 11th International Conference on Applications of Stable Isotope Techniques to Ecological Studies runs between Monday 30 July and Friday 3 August. There are also 6 different specialist workshops running before, during and after the main conference. All scientific activities are held in the Viña del Mar campus of the Universidad de Andrés Bello (located at Quillota 980, Viña del Mar, Región de Valparaíso, Chile)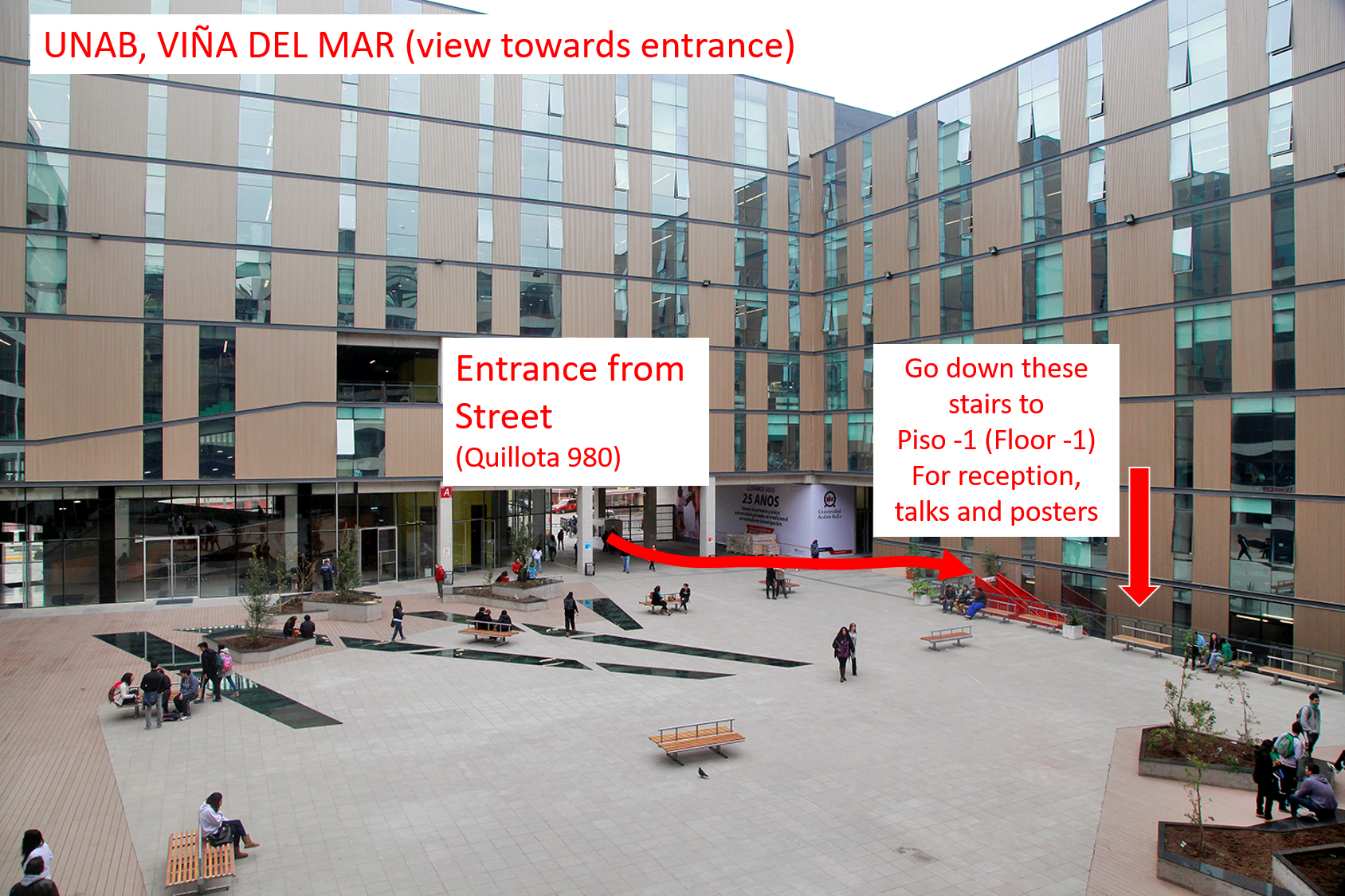 Google Map for IsoEcol. NB: includes key transport locations in Santiago, so you may need to move the focus and zoom into Viña del Mar.
Viña del Mar is a thriving coastal city of more than 30 000 that is famous for its beaches, warm and welcoming locals, excellent shopping, and great bars and restaurants (see here for an interactive map). Located ca. 120 km to the NW of Santiago, it is Chile's fourth largest city. The city is extremely popular location for summer holidays for people from across Chile and other Latin American countries, and holds an annual music festival. Located just to the south of Viña is the UNESCO World Heritage City Valparaíso, another fantastic place to visit, that is remarkably different to Viña. There is a National Tourist Service (SERNATUR) office located at 8 Norte 580, Viña del Mar, Región de Valparaíso.
Getting to ViÑa del Mar:
Most people travelling to IsoEcol 2018 from outside of Chile will enter via Santiago Airport (Code: SCL, aka Aeropuerto Arturo Merino Benítez, or Nuevo Pudahuel.). This is a medium sized, but very busy airport that generally runs quite smoothly. Important point – customs/biosecurity declaration form: When you enter Chile (or possibly on the flight into Chile) you will be given a declaration form which includes questions regarding your identify, Passport number, where you entered Chile (SCL), money, goods, and biosecurity (a very important issue here in Chile). Fill this form out. Do not bring fruit, meat or honey into Chile! Do not try and dodge these controls as it is a serious offence and fines are large.
Once landed at SCL, you first* have to pass Immigration Control (show passport and boarding pass) where you enter as a tourist. (*People travelling on an Australian passport have to pay a Reciprocity Tax before doing Immigration Control, and can pay with Credit Card or US$).
Once through Immigration Control, collect your baggage (trolleys are available and free).
Then pass through Customs/Biosecurity Control (where you need to hand over your declaration form, and your baggage will be x-rayed). If you are bringing any animal or vegetable products (e.g. processed foods or drinks), simply declare on your form that you are carrying such goods and then explain what you are carrying to the SAG officer who x-rays your baggage.  
Once you have cleared the customs area, you are almost ready to enter the arrivals area. Here there are a series of desks offering the services of official taxi and transfers (taxi minibuses), which can be booked here. If travelling in a group this is a good place to book a shared ride to Viña.
If you want to go straight from SCL airport to Viña del Mar, a taxi costs CLP $ 90.500 via TRANSVIP, or CLP $ 89.000 through the official taxi. The trip should take about 1.5-2 hours, depending on traffic (distance to Viña del Mar is 120 km). Taxis will take up to 4 people. Transfers are larger allowing a reduced cost, but will wait until they are full. NB: You cannot take an Uber from SCL airport.
Moving past here and into the public area, you will be greeted by a large number of taxi-drivers all looking for your business. Pass through them if you do not want to give them your business. If you booked a taxi or transfer previously, you can meet the driver and make your way to the vehicle.
The least expensive way to get to Viña del Mar from SCL is to take an intercity bus from Santiago to Viña. These buses leave from a bus terminal called Pajaritos metro, located ca. 30 mins away from the airport (See Google Map above) and terminate in the bus terminal in Viña del Mar. To get to Pajaritos from Santiago airport, you can either take a transfer, a taxi, or a bus.

A shared ride/transfer to Pajaritos metro is CLP $ 7,000, whereas a private taxi (up to 3 people) is CLP $ 16.500 (both through www.transvip.cl, you can book them in advance and get a 10% discount). If you are travelling with more than 3 people, or want to hire a van (up to 7 people), the total price is CLP $ 26.400. There is also another company (Delfos, https://transferdelfos.com/transfer/), and the official taxi (www.taxioficial.cl). The official taxi company charges CLP $ 18,000 (up to 4 people).
Two bus companies have services from SCL airport to Pajaritos Metro: Centropuerto (www.centropuerto.cl) and Tur-Bus (https://www.turbus.cl/wtbus/indexCompraAeropuerto.jsf).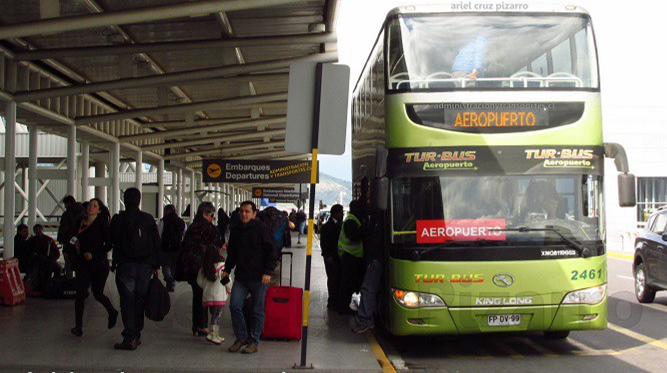 Bus running from SCL to Pajaritos Metro

Both buses leave from in front of Gate 5, at ground level. You , pay the ticket (round-trip ticket has a discount) just before entering the bus. According to their websites, both companies charge CLP $1,800 (one way: ida) and CLP $ 3,200 (round trip: ida y vuelta). The airport bus will terminate outside Pajaritos bus terminal, and you need to enter the terminal to buy a ticket and then board a bus to Viña.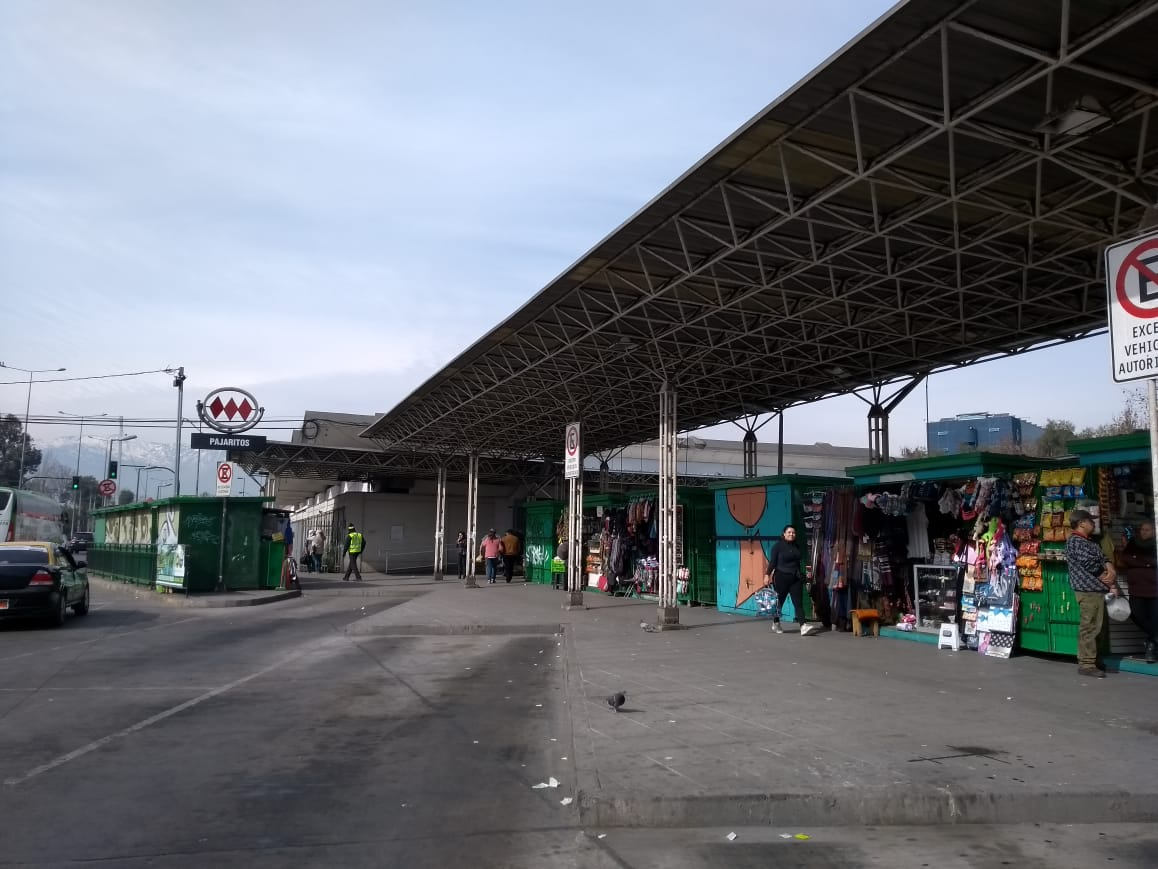 Drop off point at Pajaritos Metro for buses from the airport. From here you can enter the bus terminal.
Once you get to Pajaritos metro you will have to buy a bus ticket to Viña del Mar (roughly a 2 hours trip), see the pictures below:
Although several companies offer a service to Viña del Mar, two companies, Pullman Bus and Tur Bus (www.turbus.cl) are preferred. You can either buy the tickets online, and bring them printed (there are discounts if you buy them in advance) but beware of flight delays) or buy them in the bus station. An one-way ticket is about CLP $4,200, remember to select Santiago as the departing city and Viña del mar as destination. "TB METRO Pajaritos" is the terminal you should select when booking your bus ticket online in Tur Bus.
Alternatively, you can buy the ticket direct over the counter. When you buy the tickets, you will be asked whether you want a single (ida) or return (ida y vuelta) ticket, what time you want to leave and which seat you want to reserve.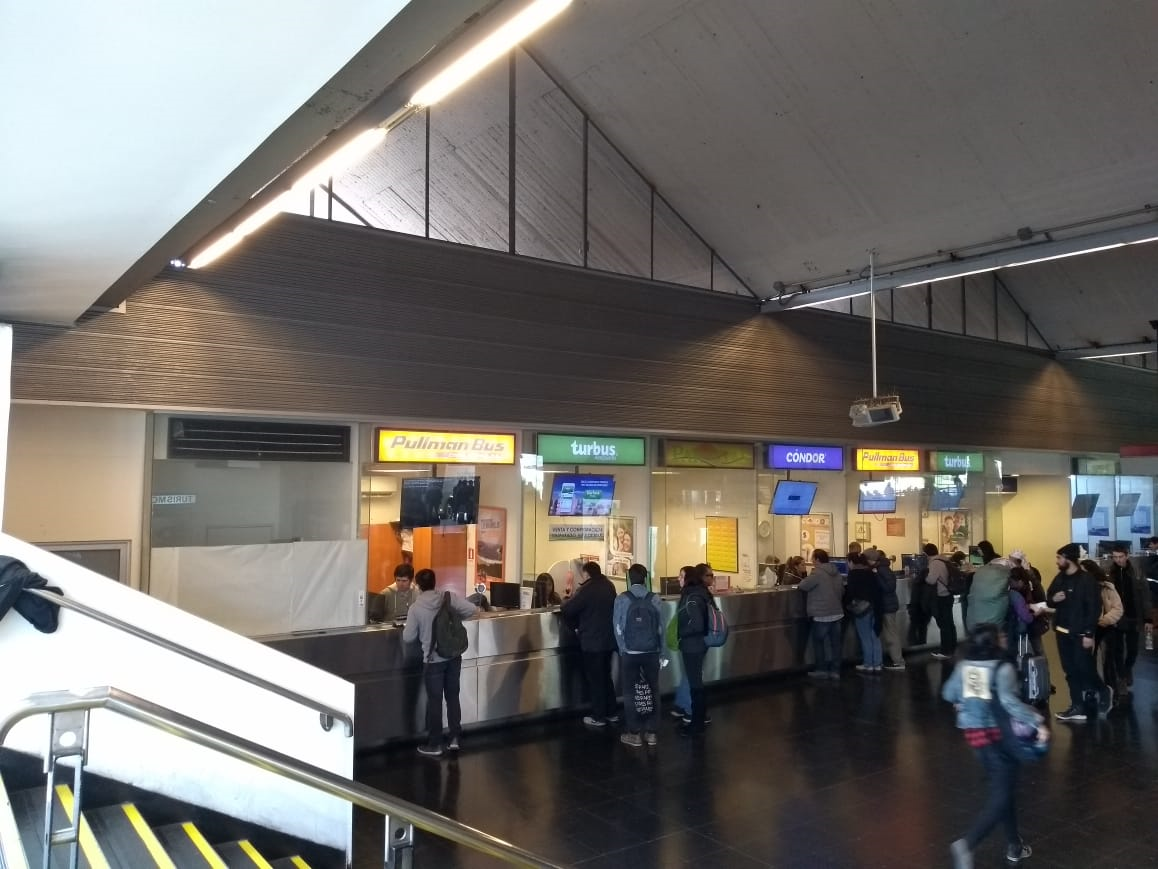 The counters to purchase your ticket to Viña are on the left as you enter the station.
Once you buy the tickets (either through the website or at the counters in Pajaritos Metro), you should go to the right side of the station and wait for your bus: There is a display sign showing the company, destination and time. When your bus arrives, you will have to hand over your luggage and have it placed in the hold (you will be given a luggage tag – keep this safe), then show the driver your ticket (they will take part of it) and enter the bus and take your seat. The trip takes between 90 minutes and 2 hours, depending on traffic.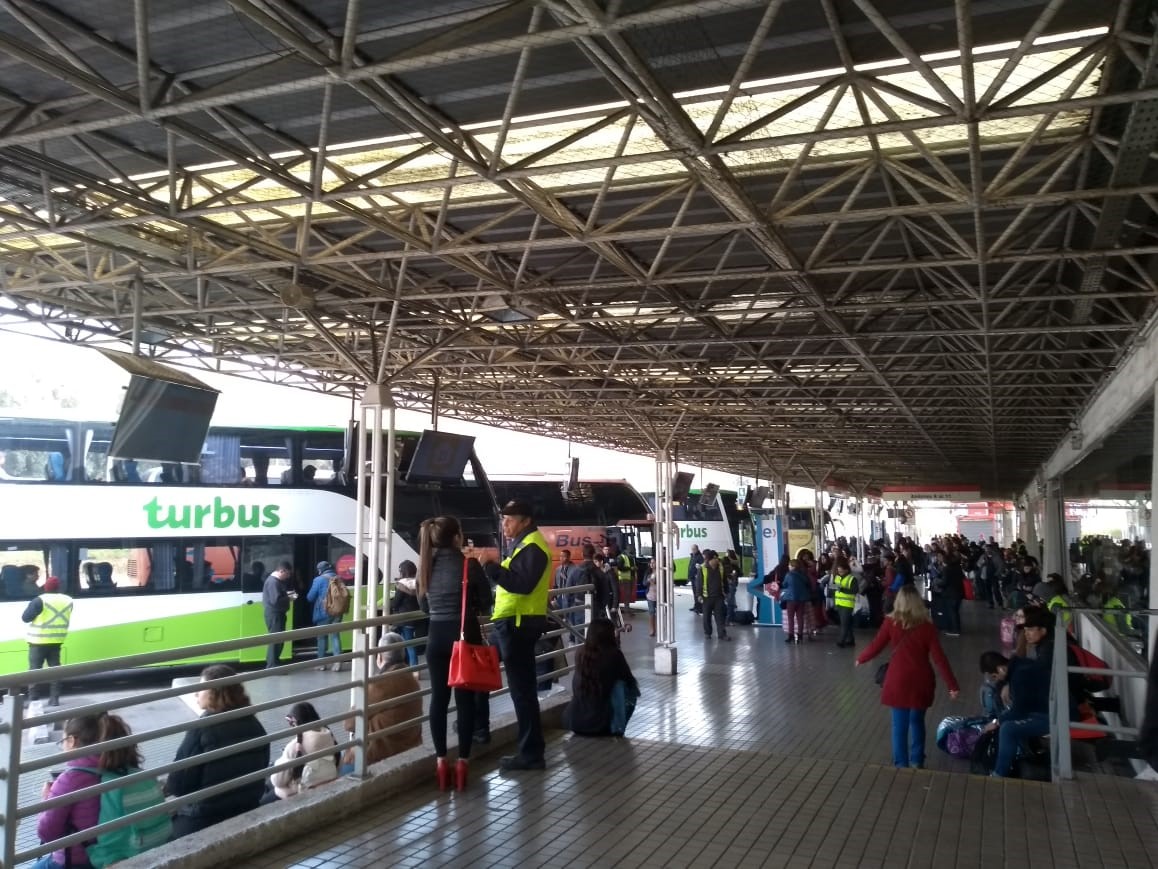 Bus departure point
Once you get to Viña del Mar, get off the bus and remember to take your luggage. There is a taxi rank directly in front of the bus station Alternatively, take an Uber or even walk to your hostel/hotel/AirBnb/destination.
The return. Departing from Viña del Mar to other destinations: When the conference is finished, you need make the return journey to the airport. It is likely that during your time at IsoEcol you have found some people with similar departure times as yourself. In this case, it might be easier to share a taxi or a transfer direct to SCL.
If not, you can take the bus back. In Viña del Mar, you can take an Uber or a regular taxi from your hotel/hostel to the Bus Station in Viña del Mar, and buy the ticket to Santiago (if you want to use you return ticket, go to the relevant company's counter and book your trip/seat).
Leave the bus from Viña at Pajaritos metro. To get the airport bus, you have to cross to the other side of the bus station, and walk a little farther East from where you took the bus to Viña del Mar. There is a sign saying Aeropuerto (Airport). Note locations are shown on the Google map – you may have to zoom in to see them: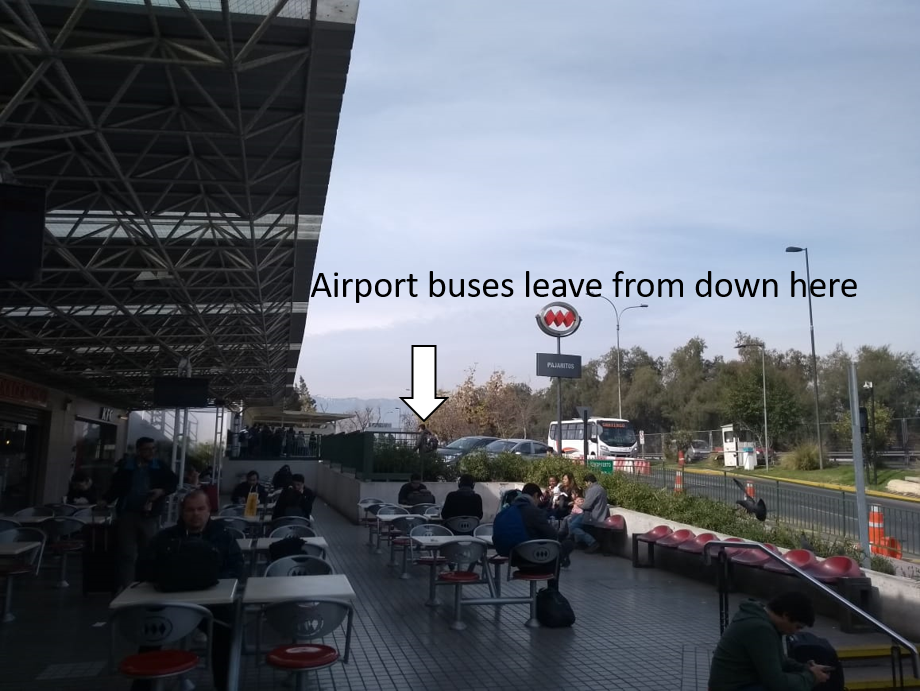 The airport bus does not leave from the man station - it's a ca. 150 m walk to the East.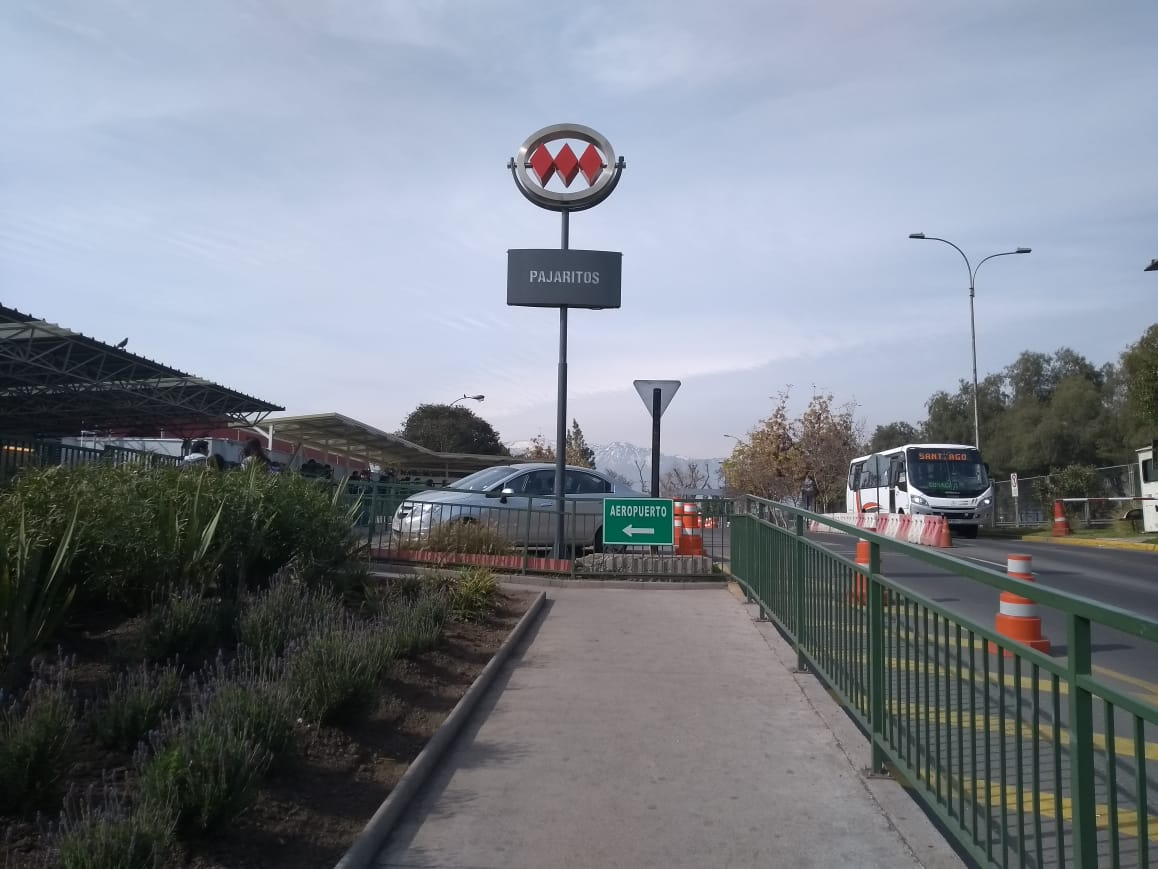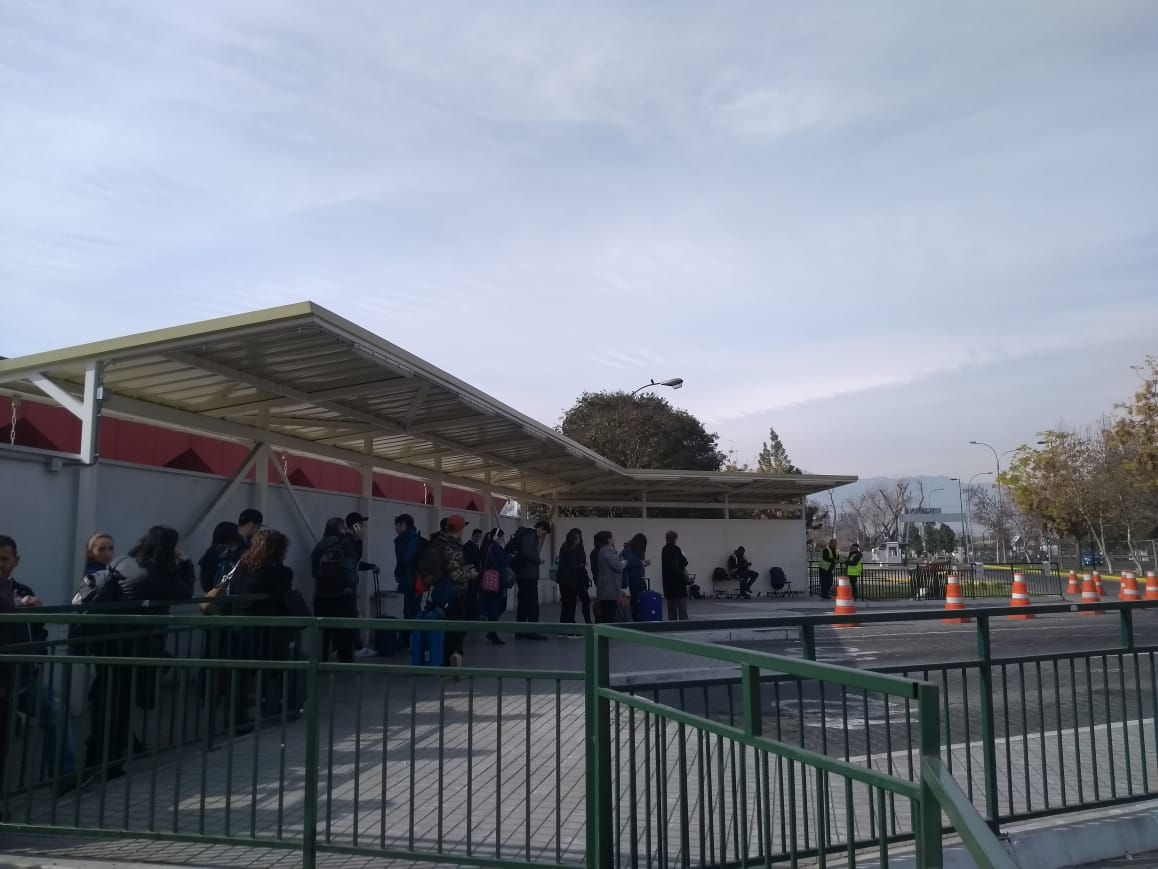 Once here, wait in line for the next bus (either Centropuerto or Tur Bus) and take it to SCL. Departures at SCL airport are at the 3rd level, international flights are to the left.
Be safe and send us an email if you need more advice!
Visitor information & General travel tips
Taxis and Uber: There are several different types of taxis in Chile ranging from Collectivos (a shared taxi that runs a fixed route and fits four passengers), the Black and Yellow type you can hail in the street and don't share, radio-taxis (which require prior booking) and Uber. Uber works well in Chile (but requires internet access) but CANNOT legally be used at Santiago airport. In Viña however, there are no such legal restrictions and it is very popular and efficient.
Local buses in Viña: The conference location is served by a number of local buses (Micros). The Moovit website has information on the local bus lines (lines from Viña: blue 401, 403, 404, 406, 407, 410; lines from Valparaíso white and green 207, 212, 213). The Moovit app can be downloaded for both Android and Apple mobile phones and shows bus routes.
Climate: Chile is in the southern hemisphere, hence late July/August is late winter in Viña del Mar. See here for the long term average climate summary, and here for the current weather. It is likely to be cool and it may rain, so bring warm clothes, and a waterproof jacket and shoes.
Health and Safety: Chile is an extremely safe country (more so than most of South America, and a considerable part of North America). However, like in any country there is crime, in particular petty theft/pickpocketing which can be a problem in busy public spaces such as bus terminals, markets etc. As in any such situation elsewhere in the World, use common sense (e.g. do not handle large amounts of money), maintain situational awareness and keep a close eye on your belongings.
Emergency services: The main Chilean police force (Carabineros) are extremely professional, polite but not many speak English (or other languages apart from Spanish/Castellano). Chile has an absolute zero-tolerance policy toward drink-driving, so do not do it. Please carry your passport with you, as the police can demand identification at any time. The main police station in Viña del Mar can be found at 4 Norte 320, Viña del Mar.
Emergency telephone numbers: Police (Carabineros): 133; Ambulance (Ambulancia): 131; Fire (Bomberos): 132; Sea Rescue (Rescate del mar): 137
Natural Hazards: Chile is one of the most seismically active countries in the world. As such, Chileans live with the constant threat of earthquakes, and if in the coastal zone, tsunamis. Construction standards are high and people are well versed in emergency procedures meaning that even in large magnitude events, to date casualties have been limited. When in Chile, keep an eye out for emergency protocols in hotels and in buildings and read them/listen to instructions. If there is a significant earthquake, or a Tsunami alert use common sense (do not use lifts/elevators, move away from heavy items which could fall) and follow instructions to find your way to a safe place/high ground.
Health: when visiting Chile, it is essential that you have travel insurance, including health coverage. Private medical care in Chile is excellent, but doctors and hospitals typically expect payment (cash or credit card) before discharge, even if the patient has travel health insurance. Private hospitals (Clinicas) are found in cities and towns throughout Chile and in the large ones medical staff will often speak English and other foreign languages. In Viña, the best option for international patients is the Clinica Ciudad del Mar (13 Norte 635, Viña del Mar), although other options include the Hospital Naval Almirante Nef (Alessandri, Viña del Mar).
Pharmacies (farmacias) in Chile are numerous, well supplied and have trained pharmacists, many of whom speak English. Quality is comparable to other industrialised countries, but medications may have different trade names in Chile, so if you are seeking a particular drug, it is useful to know its generic (scientific) name.
Food and drink: Tap water is safe to drink in Chile but many people drink mineral or purified water. Food standards are typically high, but those with delicate stomachs should probably shy away from street food. Vegetarian and vegan food is available but not in every restaurant, and vegetarian options may include eggs. Chileans are increasingly aware of food intolerances and lactose-free or gluten-free products can be obtained from supermarkets. It may be harder to find restaurants that provide such options but see here and here.
Shopping: Like many cities throughout Chile, the use of plastic shopping bags is regulated in Viña del Mar. If you are staying in self catering accommodation like AirBnB, bring a reusable shopping bag for your groceries.
Toilets: As in many countries in the Global South, Chilean plumbing systems are often not able to deal with toilet paper (local name Confort). As such, used toilet paper should be discarded in the waste-baskets provided in the toilet in your hotel, in the university and elsewhere. It is important to note that low-cost accommodation and public toilets rarely provide toilet paper (or soap). As such it is worth carrying some tissues and alcohol gel when travelling after IsoEcol just in case!
Money: Chilean currency is the Chilean Peso ($ or CLP). Notes are $1000, $2000, $5000, $10000 and 420000. Coins are $10, $50, $100 and $500. Value added tax (IVA) at 19% is automatically added to most purchases and services. ATMS are common, and typically have an English language option. Credit cards are commonly used in Chile. NB: US dollars are not generally accepted outside of large hotel chains.
Tipping: Tipping is not general (cf. N America), but 10 % is typically added to the bill in a restaurant (called a propina) and is also often expected by tour guides (unless service has been poor). There is no general custom of tipping taxi drivers etc.
Identification: All Chileans have a social security number that is commonly referred to as their RUT. The card showing this is commonly used as a means of identification and you may well be asked for your RUT when making a purchase. In these cases, your passport number typically suffices.
Electrical system: Standard voltage in Chile is 220 V, frequency 50 Hz. Power plugs/sockets are the standard Euro plug (Type C). See here for more. It is worth buying a converter before leaving home.
---
sponsors
We are extremely lucky to have received sponsorship from a range of different sources. Their generous contributions mean that we have been able to minimise registration costs (especially for students), provide student fellowships and invite plenary speakers.