Home Schedule Registration Workshops Previous meetings Field Trips Plenaries Location
ISOECOL 2018 - REGISTRATION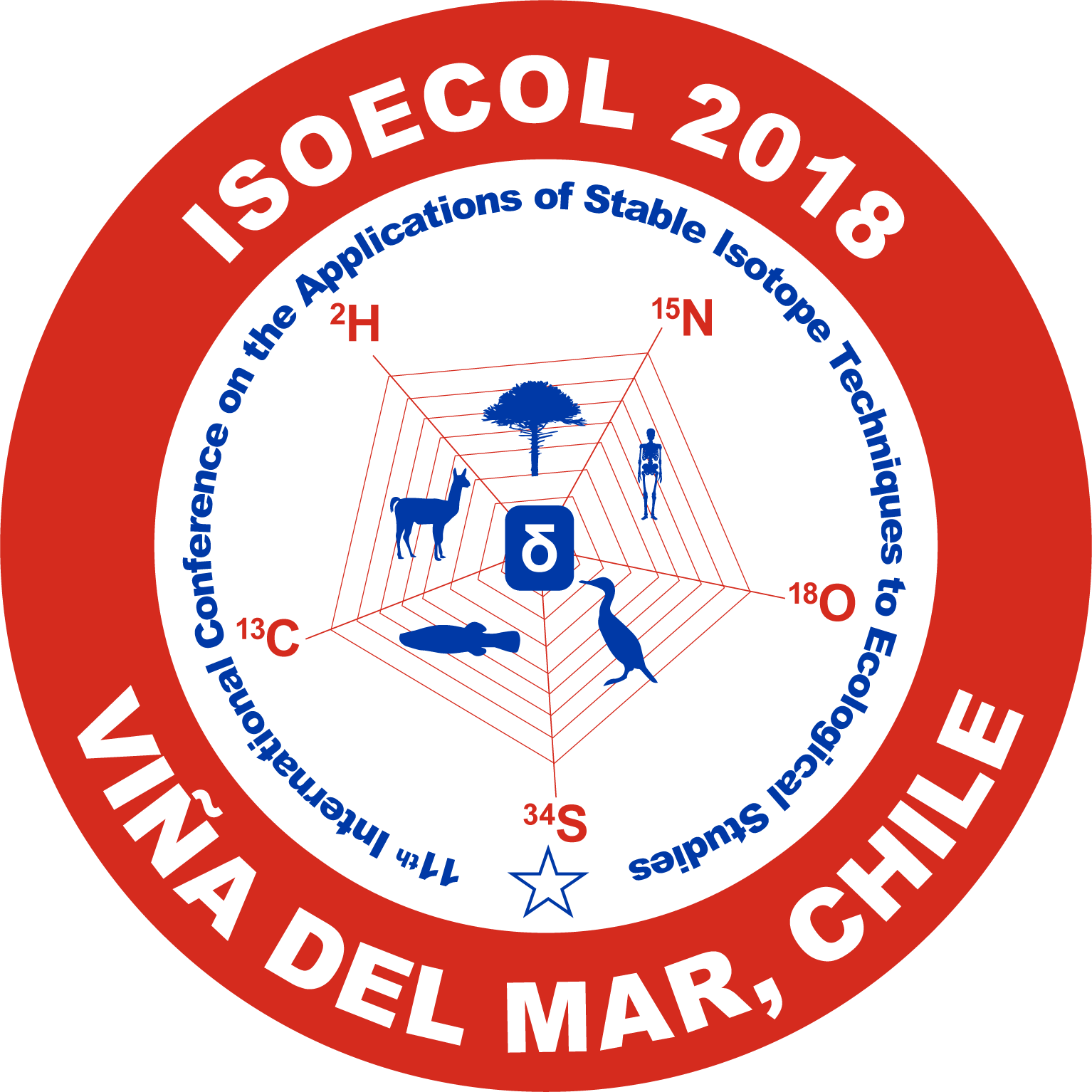 **We have now reached capacity and are not accepting new registrations (as of 13 July 2018). This is to ensure that everyone enjoys the same quality of experience at IsoEcol 2018**.
Those delegates who have registered, but not paid are asked to do ASAP via the 4ID.cl website for the meeting
ISOECOL 2018 - Important dates
15 January 2018 — 15 March 2018: Abstract submission
15 January 2018: Online registration opens
7 May 2018: Abstract decisions released
31 May 2018: End of early-bird registration
30 July — 3 August 2018: IsoEcol meeting
Registration Costs (Chilean pesos)
Early Bird (before 31 May 2018) regular rate: $225 000
Late (after 1 June 2018) regular rate: $300 000
Early bird (before 31 May 2018) lower rate : $125 000
Late (after 1 June 2018) lower rate: $160 000
Registration was open from 15 January 2018 to 13 July 2017. Fees are payable (in Chilean pesos CLP) online with credit card or PayPal via our partner company 4ID.cl. See xe.com for approx. costs in your local currency.
We have provided financial support/fellowship for 25 students* to attend the meeting (to cover registration, the conference dinner and/or help with travel and accommodation).
Lower rate registration fee extends to student*, low-income economy** and unwaged*** delegates.
*Students enrolled on full/part-time degree course (undergraduate, postgraduate) – will need to provide evidence of enrollment on course. Please upload as part of the registration process in PDF format
**Delegates from low- or lower-middle income countries (as defined by the World Bank: see list here).
***Proof of unwaged status required. Please upload in PDF format as part of the registration process.
Refund policy
For those delegates who have paid for registration and/or the conference dinner and who cannot attend IsoEcol 2018, we will refund payments at the following rates until 20 July 2018:
Before 30 June 2018, 90 % of payment made.
Before (and including) 20 July 2018, 50 % of payment made.
NB: after 20 July, no refunds will be given.
For PAYMENT, log in to access the platform.

If you have any questions, do not hesitate to contact us at the e-mail support@4id.cl

---

sponsors

We are extremely lucky to have received sponsorship from a range of different sources. Their generous contributions mean that we have been able to minimise registration costs (especially for students), provide student fellowships and invite plenary speakers.